When you created an account with Freebitco.in, you have a clear vision in your mind that this program will let you earn Bitcoin (satoshis) for free. That is why, aside from the basic ways on how you can earn free BTC with this program, you tend to look for strategies online on how to make your profit in Freebitco.in grow using its "Multiply BTC" feature (also known as the "Provably Fair Hi-Lo game").
Yes, "Multiply BTC" feature can bring you a lot of Bitcoins. However, this feature can also turn your balance to zero if you become to greedy, or if you don't implement some strategies, or when you're just unlucky to win your bets.
I knew all of these because I've been there. I lost all of my satoshis several times, which only made me frustrated. That is why I thought of a strategy that would allow me to take advantage of this program and profit more than what I am expecting.
What did I do?
I searched Google and Youtube for some legit guys who know some strategy and tricks on how to win most of the times in Freebitco.in Hi-Lo game and how to increase my profit with this great program. I studied different strategies and experimented them. Most of all, I tried not to be greedy. I limited my bets as well as the times when to play this game. I also schedule my withdrawal so I can monitor my profit and keep it secured.
Basically, this is not just a game but also a kind of gambling. With this feature of Freebitco.in, if you will not control yourself, you might end up losing all your profits in just few seconds.
Applying all of those, I've got some good results. And before I show you how to earn more free Bitcoin with this feature of Freebitco.in, take a look at some of my proofs here: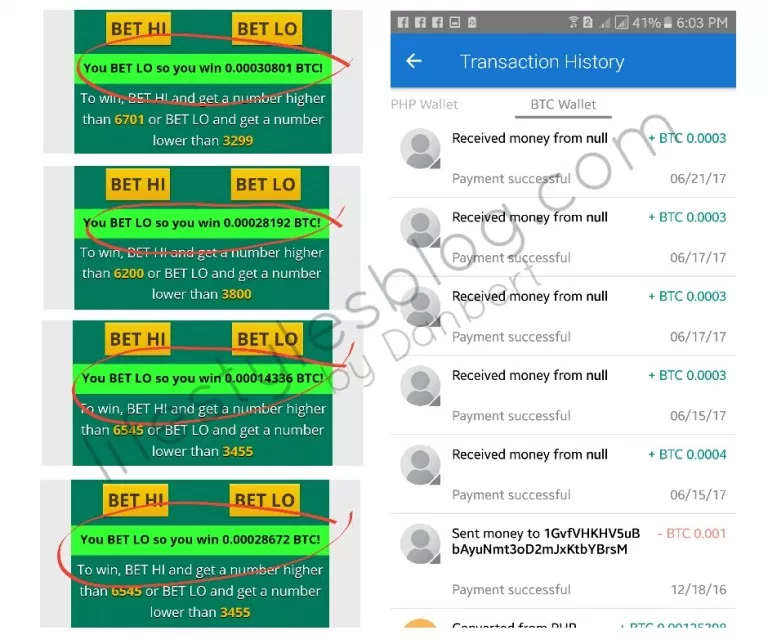 I know you want similar results, so let's proceed to this Freebitco.in strategy which I modified a bit after learning it from Youtube.
First of all, before I applied this technique, I had a balance of at least 0.00030000 BTC. To get this balance, you can do any of the following:
a. Make a deposit.
b. Continue to claim free BTC every hour.
c. Invite referrals to earn commissions.
As for me, I did both 'a' and 'b' to make sure I have enough balance before I make any bets.
In this trick, I used "manual betting" because it is somehow safer than the "auto betting." This is how my setting looked like: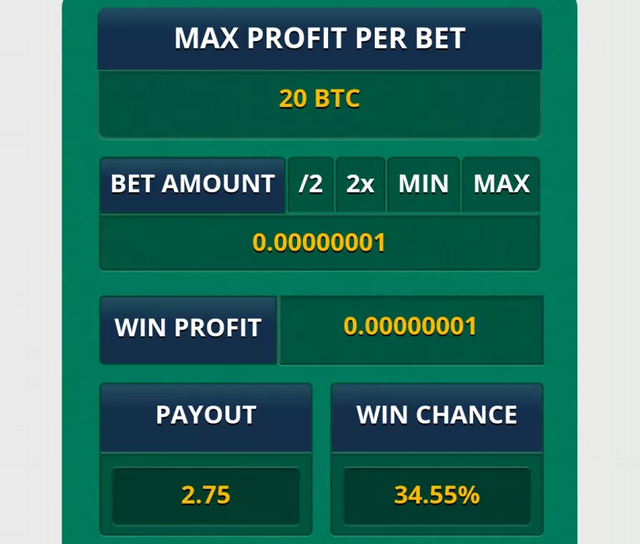 Once ready, I just hit that "Hi" or "Lo" button. It doesn't matter whichever I pick, my chances of winning will stay the same.
I continued rolling the ball until I got some 6-7 consecutive losses like this: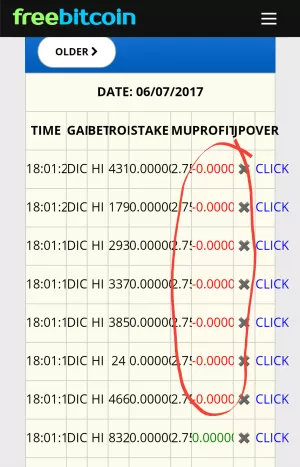 I just thought about this: the more loss I get, the greater the chance that the next roll will be a win. And so, after this consecutive losses, I changed my manual bet setting similar to this: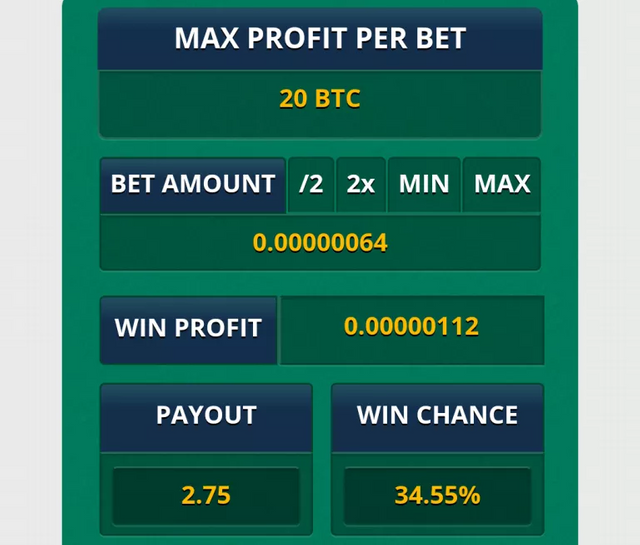 Based on my experience, there is an 80%-90% chance that the next roll will be a win. However, if it's a loss, I double my bet amount until finally I get a win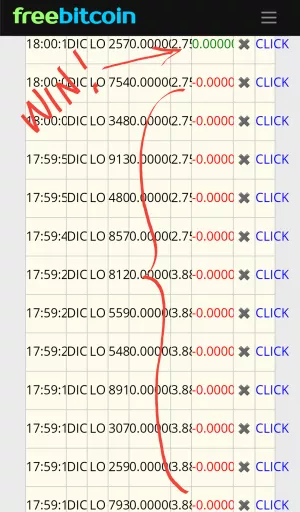 This could be risky knowing that doubling your bet amounts after every loss can exhaust all your balance. But I have my own way of decreasing the risk:
a. I wait for the right timing, not doubling my bet until I got a number of consecutive losses.
b. When it's time to double my bet, I set it as low as possible.
c. After a huge win or two, I refresh the website so it would seem that I just started to play the game.
d. I limit the times a play the game per day.
e. I withdraw some sure profit immediately, leaving some few balance for the game.
Earning more with Freebitco.in can be very easy. But losing all your earned BTC can also be that quick. And so, a lot of discipline is needed whenever multiplying your Bitcoin with this program.
Disclaimer: This is gambling. There is no guarantee that you will always win in this game. And so, whenever you want it, use the strategies here at your own risk.